Smart Volkswagen drivers take precautionary steps to armor their cars with the best of the best in automotive protection and that often starts with Rally Armor premium, vehicle specific mud flaps. Rally Armor is the established brand that drivers in the know seek when they want to minimize the damage done to their vehicles by grit, gravel, mud, rocks, snow, salt, tar and even road-kill. Wise, risk-averse consumers know that costly repairs can add up, so they get ahead of the curve by investing in Rally Armor poly-UR-rethane mud flaps.

Why poly-UR-ethane for your MKV7.5 Volkswagen Golf R?

Because it is a tear resistant, high grade performance plastic that is extremely flexible and also minimizes warping and material deformation despite varying degrees of bitter cold or blazing hot temperatures. The URs flex when you need them to (think speed bumps, sloped driveways and curbs) then spring right back to form after contact. Taking the worry out of sudden impacts and changing terrains, there is a serious advantage to a direct fit mud flap that won't crack under pressure.

Not just for the rally-minded motorsport enthusiast, the UR mud flap series for VW MKV7.5 Golf R are sought after by just about everyone who prefers performance without sacrificing the form that function often competes with. From commuter cars to heavy super-duty trucks to rally cars, there are many reasons why so many loyal customers have put their trust in the Rally Armor UR series mud flaps. Find your reason. Invest in the best now.

No drill application. Use supplied hardware, brackets and instructions to mount. Fits 2018 MK7.5 GOLF R and 2015+ MKVII VW Golf, GTI, TSI, Allltrack, Sportwagen includes 4 UR mud flaps for all 4 corners of the vehicle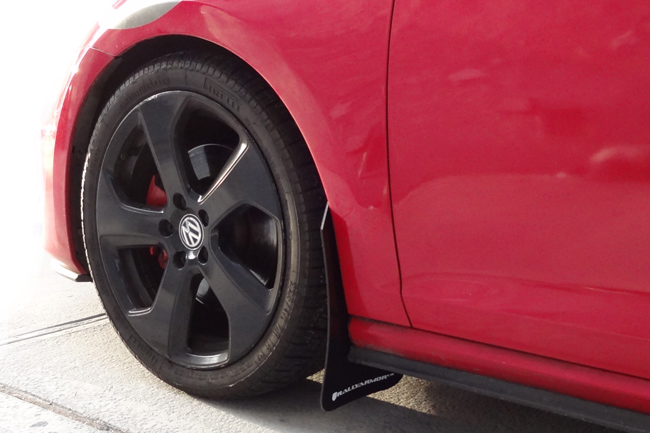 Please note that 1 set of mud flaps in the shopping cart = 4 flaps, accompanying hardware and instructions.




Fitment Note: MKVII VW Golf, GTI, TSI, Allltrack, Sportwagen models.
MK7.5 ONLY- DOES NOT FIT THE MK7 GOLF R.